Places to visit during Monsoon in India

Monsoon is one of the best times of the year to experience the beauty of every exotic part of India that offers ecstasy, beauty, and heavenly pleasure when you are vacationing. Although people may not find it very safe to travel during monsoon, rains have the magical spell to change your fear to become a little more adventurous.
You will find a list of top 10 gorgeous places to visit during monsoon in India that look even more spectacular during this time:
1. Shillong, Meghalaya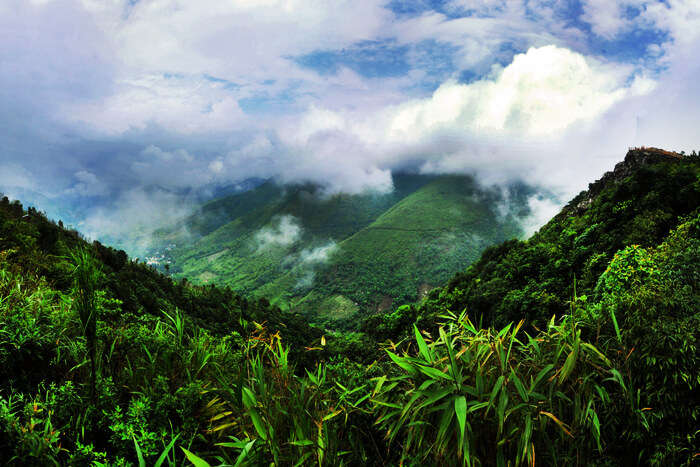 When it comes to best places to visit in monsoon, Shillong, also known as the 'Scotland of the East', is considered one of the top travel destinations in India during this season. The captivating beauty becomes even more mesmerizing when the entire hill town gets drenched in rains. Misty clouds, with lush green everywhere and rumbling waterfalls with a beautiful view, can surely be the best reason for visiting Shillong, Meghalaya.
Road-tripping around the hills and staying at nearby cozy hotels with gorgeous views, visiting the Elephant Falls, and the Spread Eagle Falls, trying out the local delicacies, are what you need for a vacation.
How to reach: By train- The closest railway station from Shillong is in Guwahati. It's about 100 kilometers away and you can easily take a taxi from there. The Guwahati railway station is connected to New Delhi and other major cities across the country.
Attractions: David Scott Trail is an old trekking route that is counted amongst the most famous ones in Meghalaya.
2. Coorg, Karnataka
The dense forest is covered with a wide variety of flora and fauna which makes it an even more romantic destination during Monsoon. The enchanting waterfalls, lakes, vast coffee plantations, and delicious cuisines to treat your taste buds are the reasons to consider it as one of the best places to visit in monsoon.
Trekking, bird watching, horse ride, coffee plantation tour are a few options you can indulge in when you are in Coorg.
How to reach: 5 hours (~270.4 km) from Bangalore via road if you are planning to go on a road trip. The nearest airports are Mysore at 120 km, Mangalore which is 135 km far and Bangalore at 260 km. Coorg doesn't have a station by itself but the nearest railway stations are Mysore, Mangalore, and Hassan.
Attractions: Explore the wildlife at Pushpagiri wildlife sanctuary, experience an exhilarating hike at Kotebetta and visit the Jog falls in Karnataka which is the second highest in India.
3. Munnar, Kerala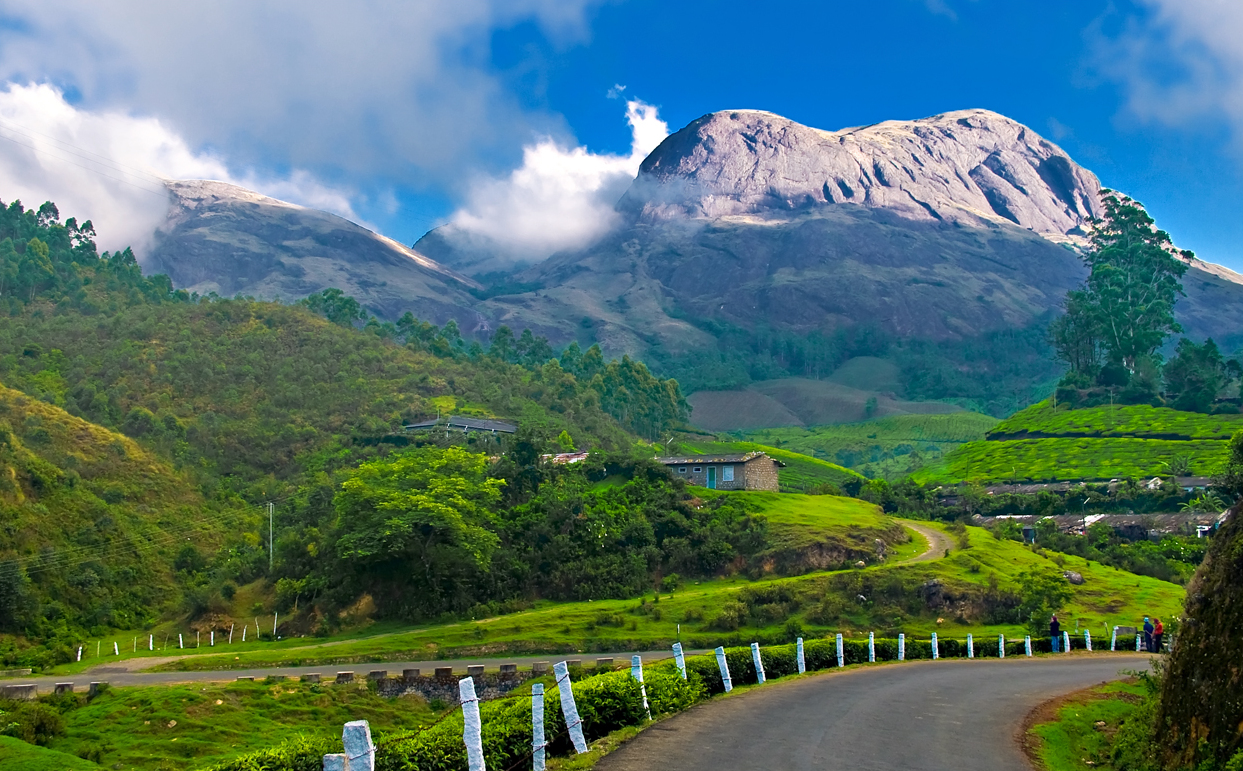 South India looks heavenly with lush greenery and witnessing it getting drenched in rain surely makes it one of the best places to visit in rainy season. And Munnar will surely offer you a great view with all of that, with silvery mist, vast tea gardens, hills, etc This hill station has become one of the favourite tourist places in India during monsoons because of its beauty.
The crowd-free Munnar is famous for trekking trails, sight-seeing, tea gardens, getting hypnotized by the natural bliss, and indulging in delicious Kerala cuisine.
How to reach: 3 hours 40 minutes(130.1 km) via road from Cochin if you take the NH49. The nearest railway station is Aluva and Ernakulam which are the major cities in Kerala. The nearest airport is Cochin at 110 km and Madurai international airport which is 140 km away.

Attractions: Spot some exquisite wildlife at Anamudi which is also the highest peak in the western ghats, enjoy some nature walk at beautiful lakes in Devikulam and visit the Attukal waterfalls.
4. Goa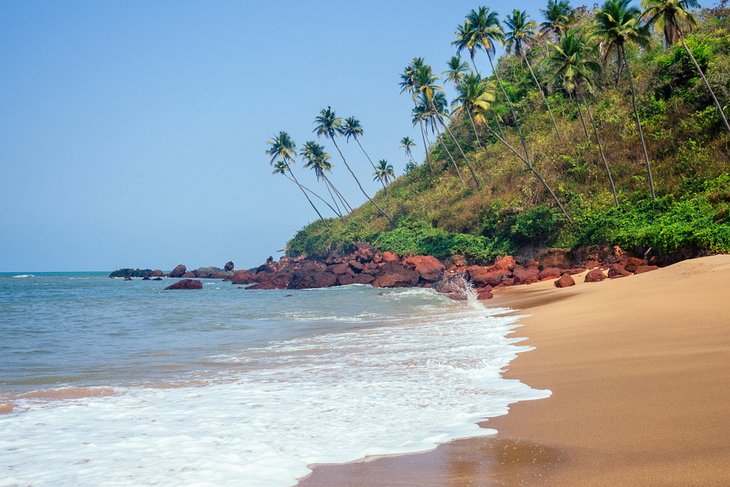 Goa is surely a major attraction point for any time in the year, but the Monsoon in Goa will make you spellbound. The land of beaches becomes gorgeous during Monsoon with the never-ending view of the sea and other picturesque sceneries. Ideal place for all nature lovers during the rainy season, you can go for trekking, heritage tour, shopping, birdwatching, etc.
Road-tripping from Mumbai to Goa is the ultimate adventure you need. Apart from that, you can go there through Goa international airport in Dabolim.
How to reach: Goa is well connected by roads and a Mumbai to Goa road trip is worth everything in monsoons. Goa is well connected to other cities with Madgaon & Vasco-Da-Gama stations and Goa international airport in Dabolim.
Attractions: Go trekking or hiking at Dudhsagar waterfalls, Aguada fort for a scintillating view, Dolphin show, Cruize amid the beautiful sea bordered by the beaches, feel rich as a gambler at the Casino and get the thrilling experience of water sports in Baga beach.

5. Kodaikanal, Tamil Nadu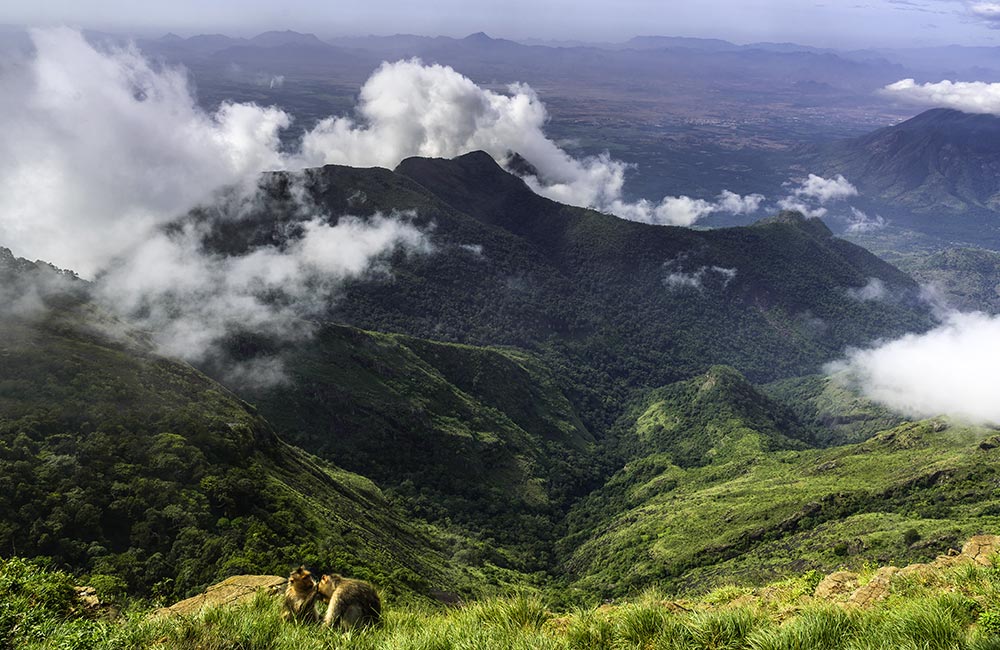 Known as the "Princess of Hill Stations" this is one of the best monsoon destinations in India. Situated in the Palani hills of western ghat it offers enchanting waterfalls, lakes and lush greenery and spectacular views of the ghats and hills.
Kodaikanal is known for its rich flora. Of the big trees, cypress, eucalyptus and acacia are the dominant varieties. Pear trees are numerous and the fruits are of high quality. Competing with the fruit trees are the flowering ones, mainly rhododendron and magnolia. Large dahlias of different hues are the main attraction of Bryant Park, situated close to the Kodai lake.
How to reach: The nearest airports are Madurai which is 135 km away, Coimbatore which is 170 km away and Trichy at 200 km. It's about 9 hours (450 km) from Bangalore via road. The nearest railway stations to Kodaikanal are Palani station at 64 km.
Attractions: Stroll around the Berijam lake and visit the Kodai lake which is the man-made lake surrounded by rocks and trees and enjoy the scenic view of the hills at Palni hills.
6. Mahabaleshwar, Maharashtra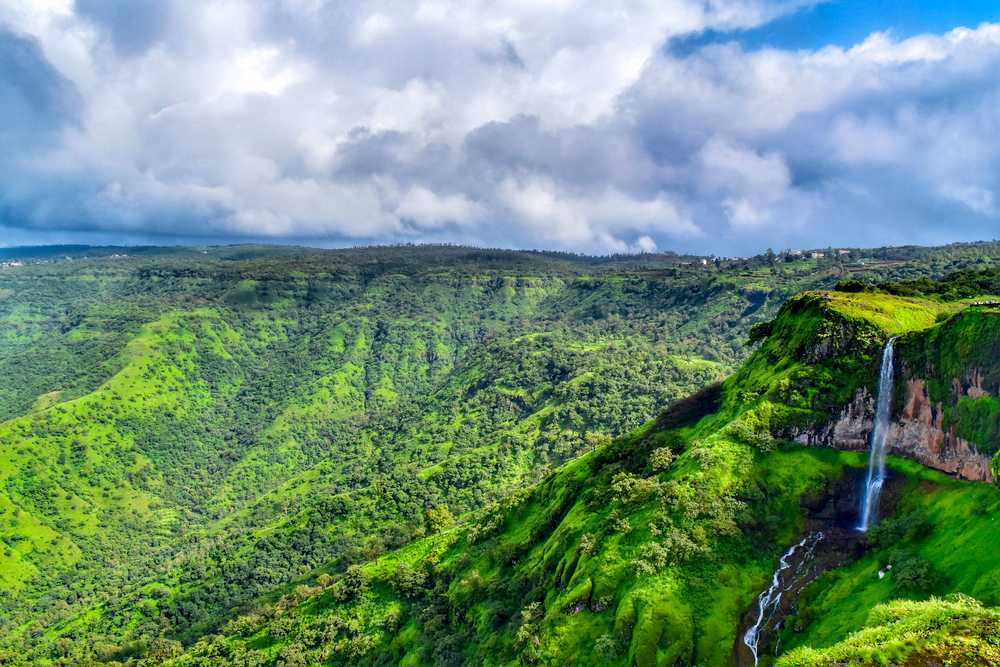 With the greenery, calm surroundings, the beauty of the Sahyadri range, which is a part of the Western Ghats, Mahabaleshwar becomes one of the most romantic places in India, especially in the rainy season. Pratapgad is a beautiful place to explore if you're in Mababaleshwar, along with Lingamala waterfalls and The Elephant's Head Point is another major attraction among tourists that make a captivating sight during Monsoon.
How to reach: By Train. While Wathar (60 km) is the nearest railway station from Mahabaleshwar, the most accessible and convenient one would be at Pune. There are plenty of trains going to Pune from Mumbai as well as other major cities across India and you can take a bus or a taxi from Pune to Mahabaleshwar.
Attractions: Pratapgadh, Lord Mahabaleshwar temple, Elephant's head point, Tapola, Dhobi Waterfall
7. Udaipur, Rajasthan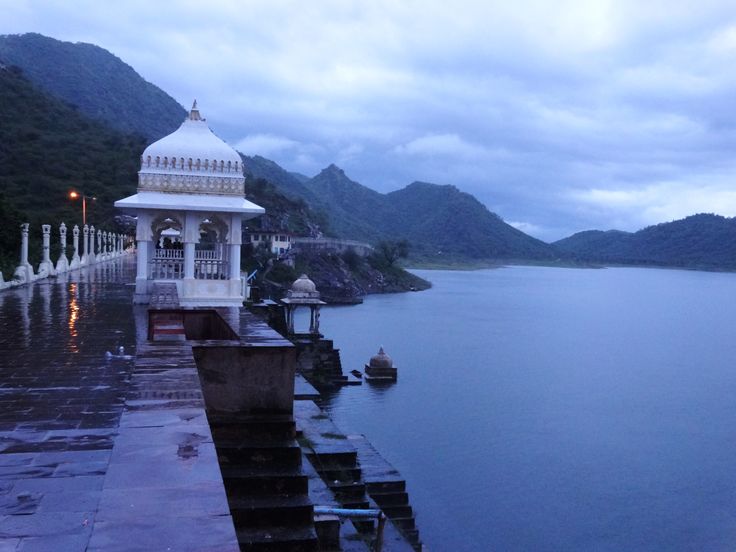 During monsoons, this place flourishes with more greenery around the lakes and palaces making it a breathtaking view drenched with rain and majesty altogether. The beauty of the Fateh Sagar Lake becomes extra captivating during this time. Boat riding in rains with your partner sounds romantic around those royal architectural properties.
For heritage lovers, monsoon is pleasant weather to visit all the spots like City Palace, Monsoon Palace, Lake Palace. Udaipur railway station and Maharana Pratap airport in Dabok make it easier to reach the main city.
How to reach: Udaipur has its own railway station. The nearest airport is the Maharana Pratap airport in Dabok which is at a distance of 22 km from the city of Udaipur.
Attractions: Feel royal and know the glorious past of the Indian rajas and maharajas at the City Palace, Monsoon Palace, Lake Palace, and enjoy the alluring beauty of the Fateh Sagar Lake.
8. Spiti Valley, Himachal Pradesh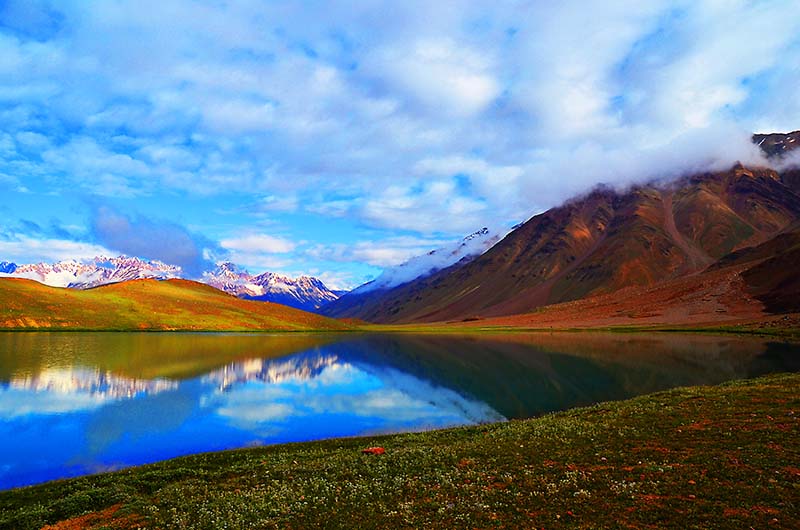 Spiti Valley is one of the most unusual places in India to visit during Monsoon, and have become quite popular among people who like the calm and mystical vibe of the "Little Tibet". Definitely a great place for camping, and wildlife viewing, and rains make it even more magical.
The Spiti River originates from the Kunzum range. Tegpo and Kabzian streams are two of its tributaries. Water draining the famous Pin Valley National Park is also a part of the Spiti river system. Its position across the main Himalayan range deprives it from the benefit of the South-West monsoons that causes widespread rain in most parts of India from June to September.

How to reach: The nearest railway station is in Shimla and the nearest airport is the Kullu airport at Kullu.
Attractions: Spot exquisite flora and wildlife at Pin valley national park, and appreciate the calmness and peaceful atmosphere of the Lhalung monastery.
9. Pondicherry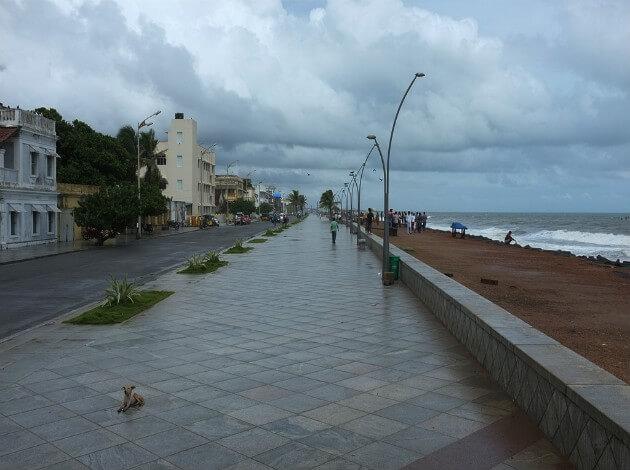 One of the ideal places for beach lovers, the postcard-perfect city Pondicherry looks mesmerizing in the rain. With its old-world charm, the city looks picture-perfect surrounded by cute villas, old colonial houses, cobble-stoned streets, and a few cafes and bars near the sea. Trying French delicacies in rains is definitely fascinating for foodies.
For party lovers, Pondicherry offers various places to enjoy, for others shopping near market areas and walking through the quiet yet wild beaches instantly bring joy.
How to reach: The nearest rail station from Pondicherry is Villupuram, which is about 35 kilometers away from the town. Or you could fly down to Chennai and go for a road trip to Pondicherry, it takes about 2 hours.
Attractions: Walk along the pristine serene yet wild beaches, visit Auroville and try delectable French delicacies.
10. Darjeeling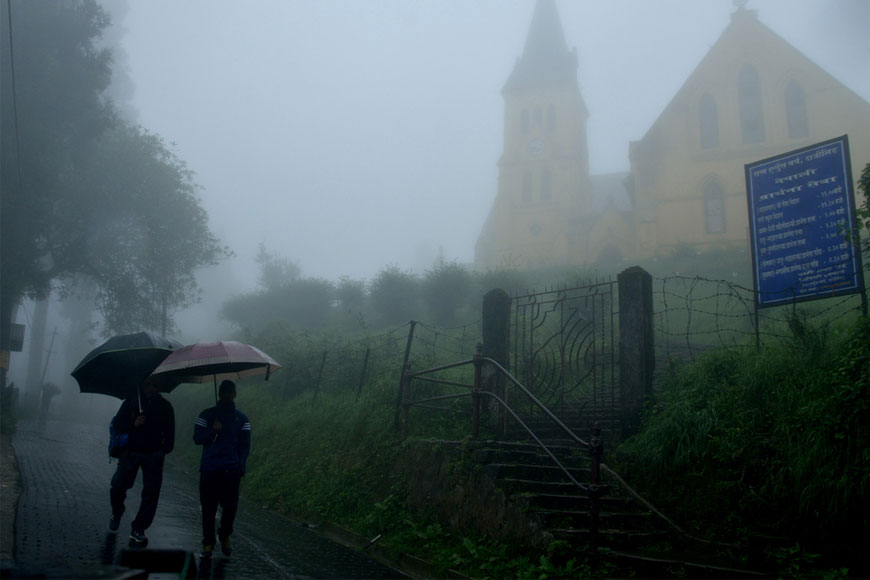 No matter how many times you visit, Darjeeling has its own charm that never gets old. The Queen of Hills is one of the best places to visit in rainy season which is located right at the foothills of the Himalayas. The tea-plantation visit and toy train ride become way more satisfying during monsoons.
As a heavy shower happens during Monsoon, it's better to just enjoy the gorgeous view from the cozy hotel rooms.
How to reach: The nearest railway station in Darjeeling is at New Jalpaiguri (62 kilometers from the main town) which connects major Indian cities like Kolkata, Delhi, Guwahati, Chennai, Mumbai, Bangalore, Bhubaneshwar, and Cochin. Or take a flight to Kolkata.
Attractions: Rangeet valley passenger cable car, Darjeeling monastery, adventure sports, and the toy train. Don't forget to try some authentic Darjeeling tea.